WordPress Website Speed Optimization Service
We make your WordPress website faster or make a 120% refund
We optimize the loading speed of WordPress website in 2 seconds, in most cases, it's less than 1 second.
Like our competitors, we don't install a few WordPress plugins and term it as a speed optimization. We do even more manual works with the advanced technologies to speed up your WordPress website, that are out of the scope of a premium caching plugin. We achieve the maximum possible speed for your WordPress website which helps you gaining the optimal user experience ever. Place the order now and improve conversion rate & search engine ranking in a few weeks.
We create a staging site, which is an exact replica of your LIVE WordPress website. We do our optimization works on the staging website. After we complete the task, you check the staging website. If you certify that everything is okay, only then we push our changes to your LIVE site. So, no downtime, no break issue on your LIVE website. Hence, there will be no loss in your business due to our WordPress speed up service. Our competitors don't follow this standard and safe method.
Moreover, our service comes with the 120% money back guarantee. If we fail to improve your WordPress website's loading speed, i.e., the load time benchmarked with Pingdom and the lighthouse analysis score at Google Page Speed Insights, we'll refund your money by 120%.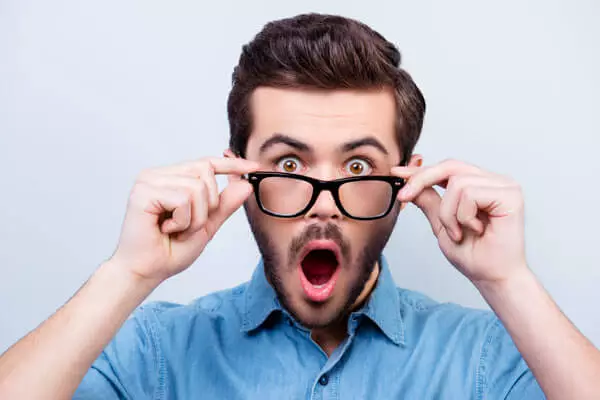 One time cost:

$309

$216
The price is per website. No monthly burden. No hidden cost.
What you get with our WordPress Speed Optimization Service
1. Premium WordPress caching plugin ($39 value) install and configuration
2. Image optimization: We compress the images, convert to the next generation image format WebP (Google recommended), and resize the images.
3. Lazyload of images
4. Review active plugins
5. Optimization of the WordPress database and cleanup
6. Upgrade to PHP 7
7. Audit report: before and after our optimization service
8. Minify CSS, JavaScript and HTML
9. Enable Gzip compression
10. Leverage browser caching
11. CloudFlare CDN
12. Ensure text remains visible during web font load
13. CSS & JS files concatenate
14. Add Keep-Alive headers
15. Remove Query strings from static resources
16. Eliminate render-blocking JavaScript and CSS in above-the-fold content
17. Defer loading of JavaScript
18. DNS prefetch
19. Cache Preloading / Cache warming
20. Base64 Encoding of small images
Our modus operandi
to improve your WordPress website speed
Place an order with us (If you need discussion, please contact us).
We prepare the current optimization audit report of your WordPress website with Pingdom and Google PageSpeed Insights and send it to you.
We would require your hosting and WordPress admin login details.
We use this information to create an offsite backup of your website.
We create the staging website, which is a replica of your WordPress website.
We optimize the staging website to improve speed.
You will be required to create a free account at CloudFlare.com and provide us with the password.
After we complete the CloudFlare optimization, we request you to change the website's name-servers to the CloudFlare NS, which you can do yourself or ask us to do.
When we complete, you check the staging WordPress website and give us approval if everything is okay.
We push the changes (optimization) to the LIVE WordPress website.
We submit the final report benchmarked with Pingdom and Google PageSpeed Insights, showing the improvement in page loading speed. You get a 120% refund if we fail to improve your website's load time evaluated with Pingdom and optimization score at Google PageSpeed Insights.
You must change all the passwords as a precautionary measure.
It is our commitment to complete the optimization process of your website within 7 working days.
Our work samples
for WordPress website speed optimization services
www.welcomeapartments.com
Before optimization
Load time: 22.75 sec
After optimization
Load time: 317 milli-sec
Before optimization
Score: 33/100
After optimization
Score: 100/100
Clients' reaction
after the completion of WordPress speed optimization service
Pinaki Ghosh
Founder & Captain, Power Publishers, www.power-publishers.com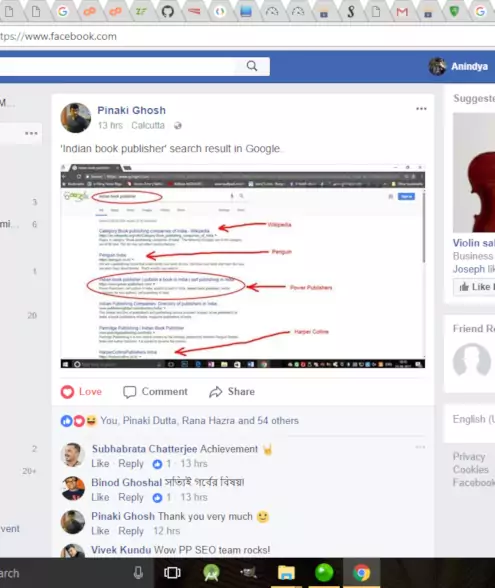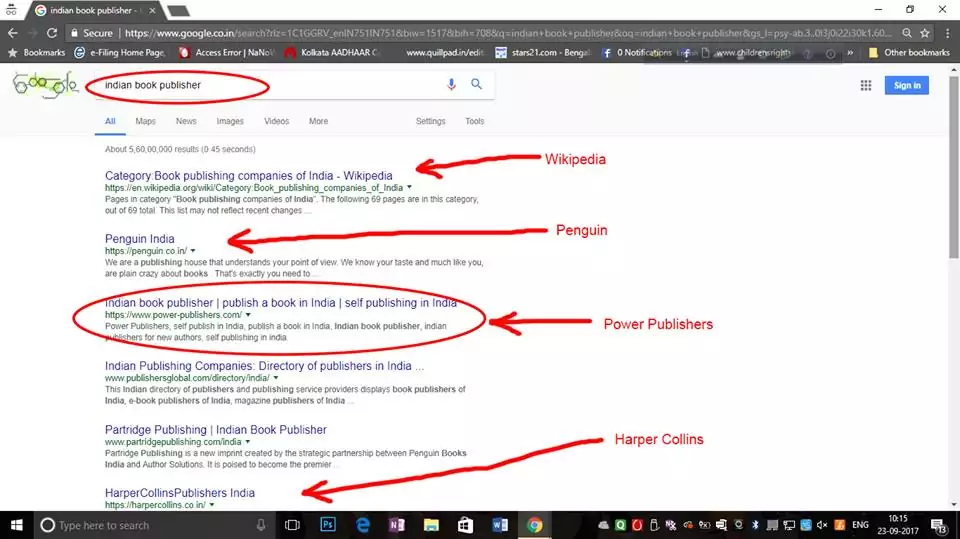 Norma Pastor
President & Founder, The Young Alchemists Foundation, www.tyaf.co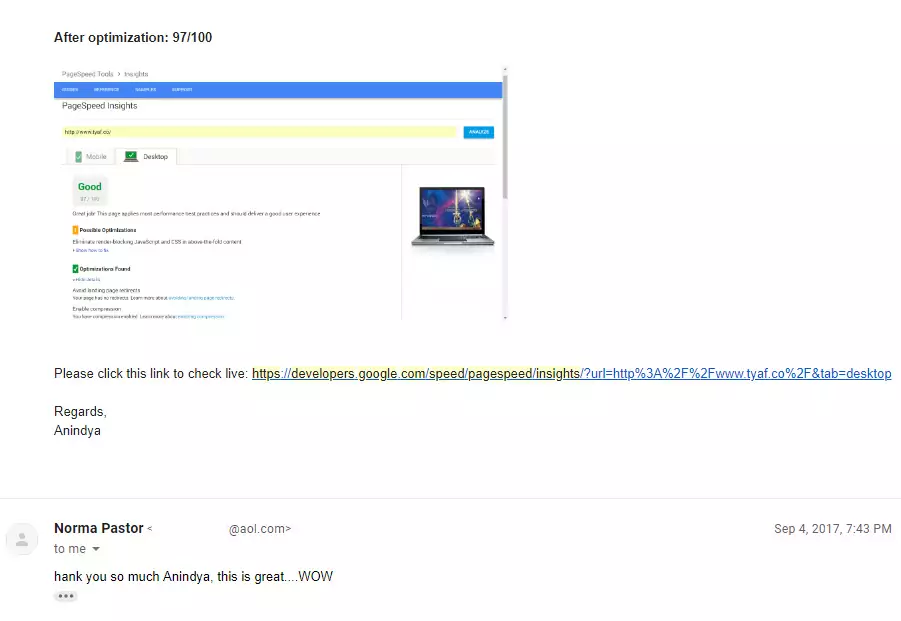 Why choose us?
to speed up your WordPress website
A. Risk-free Implementation: We create a staging site, which is a replica of your WordPress website, and work on it. After we complete, you check the staging site and give approval if everything is okay. Then we push the changes to your LIVE WordPress website. Our competitors don't provide you this facility. They work on the LIVE website directly, which may lead to breaking your LIVE site, cause downtime and loss in your business.
B. 120% money back guarantee: We'll issue you a 120% refund if we fail to improve your WordPress website's speed, i.e., load time evaluated with Pingdom and lighthouse analysis score with Google PageSpeed Insights. We optimize WordPress website loading speed in less than 1 or 2 sec.
C. Compatible with the latest version: Google has drastically changed the logic of PageSpeed Insights with the most recent version (5). Our service is compatible with it.
D. Proven expertise: Not only in the field of WordPress website speed optimization service but you see our proven expertise in other web technologies too. The list of relevant links are given below, with a quick summary:
Service Items Explained
Our WordPress Speed Optimization Service provide you the following
1. Premium WordPress caching plugin ($39 value): We'll install the best premium caching plugin, configure it and cross check with your WordPress website so that any settings don't conflict with the site.
2. Image optimization: This is a must to speed up the load time of a WordPress website. Some ways in which images tend to hinder website speed are a large size, unspecified dimensions, bandwidth-hungry formats like JPEG and PNG, or complicated formats like TIFF and BMP. WordPress speed optimization services that we provide focus on all these factors to improve speed. We compress your images, convert JPG and PNG images to WebP, which is the next generation image format and recommended by Google. We also resize the images to the required dimensions.
3. Lazyload of images: Lazyload is a technique with which the images are downloaded on a web page only when that portion appears to the viewport of a browser. Incorporation of this technique ensures that images in a particular section are loaded only when you come to it. Otherwise, they remain off the page. This procedure improves the loading speed of a WordPress website.
4. Review active plugins: In many cases, users install WordPress plugins for a one-time purpose. But if you keep them activated even after that purpose is over, it cost you performance. Every time a page or post is accessed, WordPress runs all the active plugins. We review the active plugins to find out if there any plugin present that is not being used currently. We deactivate them upon your consent.
5. Optimization of the WordPress database and cleanup: WordPress stores all the information in its database. In most cases, you may not need some of the data. For example post revisions, drafts, trashed posts, spam and trashed comments, transients, etc. These items slow down the performance of your WordPress website. We remove these unnecessary items and make your database clean & high performing.
6. Upgrade to PHP 7: According to Zend Technologies, the inventor of PHP, PHP 7 provides enormous performance improvement over PHP 5. We found this to be true based on our experience. If your web host supports PHP 7 (most hosts support), we'll upgrade your WordPress website to PHP 7.
7. Optimization audit report: We provide detail audit report for your WordPress website before and after our optimization work. So, you can track the performance boost as per the benchmark of Google Page Speed Insights. (You'll also feel the loading speed improvement by browsing through your WordPress website.)
8. Minify CSS, JavaScript and HTML: Minify means making the code smaller by removing tabs, spaces, line-breaks, and comments. When we apply minification to large CSS, JavaScript or HTML files, the coding shrinks; thus rendering the WordPress page or post makes more optimized and faster to load.
9. Enable Gzip compression: It conforms to the configuration of the web-server and renders the files sufficiently small to speed up the transfer process. By implementing Gzip compression, we effectively reduce the file size to save on bandwidth. This, in turn, improves the speed of your WordPress website.
10. Leverage browser caching: We do this by adding HTTP expires headers so that some files would expire beyond a pre-determined time-frame. As a result of browser caching, files like CSS, JS, images, etc. are stored in the visitor's browser cache. So they do not need to be downloaded every time someone visits your website. This method speeds up your WordPress website loading time considerably.
11. CloudFlare CDN: CloudFlare is a content delivery network. It caches the copies of WordPress web pages across 175 data center located in different countries. Every time a web page is called, CloudFlare retrieves a cached copy from the server which is geographically closest to the visitor's location and returns it. This process reduces network latency and improves the loading speed of your WordPress website.
12. Ensure text remains visible during web font load: We deploy the CSS technique that ensures your website's text is visible to the visitors even before the web font downloading process gets completed.
13. CSS & JS files concatenate: We concatenate all the external CSS and JavaScript files of WordPress website into a single file so that everything can be downloaded at once. This process reduces the number of HTTP requests and improves the page loading time.
14. Add Keep-Alive headers: The server closes TCP connection after each individual HTTP request gets completed. If your WordPress website has 6 CSS, 4 JavaScript, and 8 image files, the browser needs an additional 18 HTTP requests to download these resources. That's mean the browser needs 18 separate HTTP connections. This process is time-consuming. We'll optimize your WordPress website with Keep-Alive headers so that it'll be able to deliver all the resources in a single HTTP connection. This technique will speed up your WordPress website a lot!
15. Remove Query strings from static resources: URLs that contain symbols like question-marks are known as Query strings, like this: domain.com/style.css?ver=5.1.1
Some servers & proxy servers are not able to cache files that contain query strings. So we remove query strings from all of the static resources of your WordPress website.
16. Eliminate render-blocking JavaScript and CSS in above-the-fold content: Most often JS and CSS files of WordPress websites are coded in such a way that all the code do not mandatorily responsible to display the 'above-the-fold' content. This issue interferes with the loading of the same and blocks rendering. In such a situation, Google PageSpeed Insights gives out a warning asking you to remove the render-blocking CSS and JS. We achieve this by asynchronously loading the CSS file, inlining the critical CSS and deferring the JavaScript.
17. Defer loading of JavaScript: Defer loading of JS implies that the JavaScript code will take effect only after the WordPress page or post has been loaded. The external JS files are deferred using the 'defer' attribute. After the WordPress page content has been loaded, the deferred JS will be executed.
18. DNS prefetch: Most WordPress website depends on third-party resources like Google font, Font Awesome icons, Youtube video, etc. Every domain name requires a separate DNS lookup, which can consume a significant amount of time and make the WordPress website slow. We use DNS prefetch that enables the browser to conduct DNS lookups in advance and in the background. Thus this technique reduces latency.
19. Cache Preloading / Cache warming: Caching plugin periodically clear cache to keep the content up-to-date. Then a WordPress page or post is cached when it is first requested. On the first request, WordPress generates the page from the database. At the same time, the page is saved in the cache storage. So the server takes more time than usual on the first request. (The page is served from the cache on subsequent requests.) This can interfere with performance on a large WordPress website. We fix this potential issue with cache preloading (or cache warming). This system caches all the pages, posts, categories in advance, even before they are requested by the end user. So a performance boost will take place from the very first request.
20. Base64 Encoding of small images: The purpose of Base64 Encoding is to transform images into an ASCII string which are recognized by the browsers. We inline small images into the HTML code using Base64 encoding. So your WordPress website does not require an image to download. This method reduces the number of HTTP requests and hence the page loading time.